Google Analytics Professional Set Up Service
How confident are you of your marketing decisions?
Google Analytics can be a powerful tool that will help you make profitable business decisions based on evidence.
Relying on default Google Analytics installation is not enough and will mean you take actions based on irrelevant data.
Have Google Analytics installed by professionals with the most meaningful data that will help you make effective business decisions.
All our set ups come with a visual dashboard that is customised to your business. You will see only the important data in one place. We'll configure your dashboard so that you are not overwhelmed with irrelevant numbers.
* Prices are based on standard set up. If your website has unusual features, e.g. forms that are not built using HTML, tagging may be more complex and cost may increase. We will confirm cost related to your website before taking on the project.
If you're not sure if your website is performing to its full potential, use our experience and know-how to create a dashboard full of insights that are relevant to you.
First, we ensure your Google Analytics data is clean and robust. Then, we pick the reports, charts and graphs that are most relevant to you. Finally, we create a dashboard that is customised to your business needs.
We are experts in data visualisation, so even if you're not a data person or a tech genius, you can easily understand how your website is performing using your dashboard.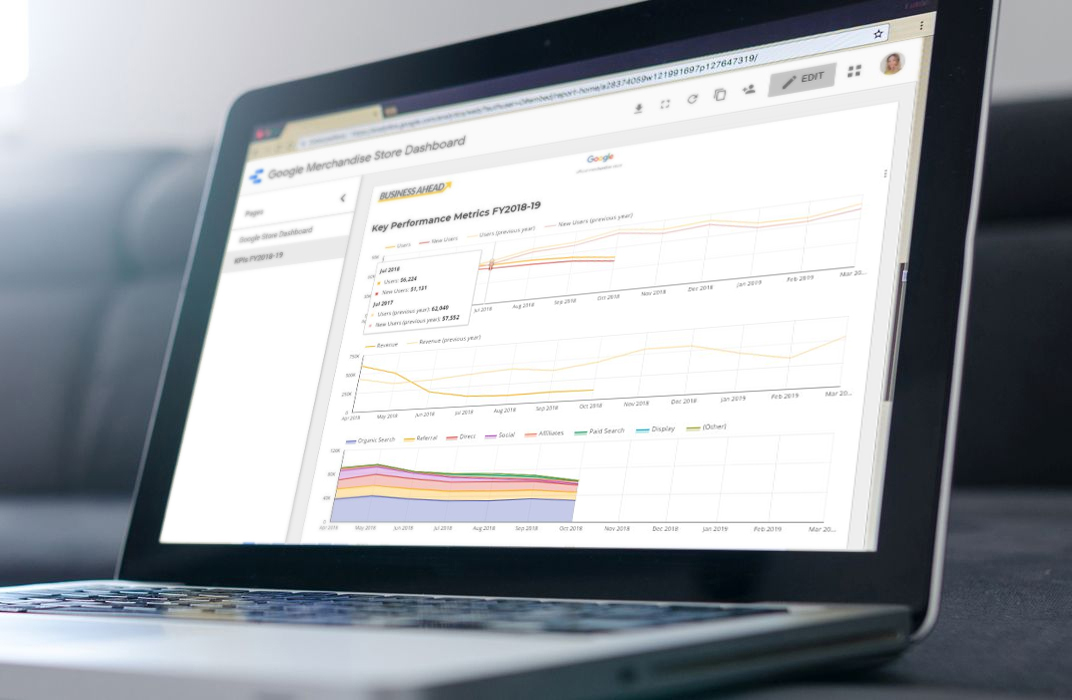 Below are more details on how we do our Google Analytics configuration and about how we put your dashboard together.
How do you install Google Analytics?

We use Google Tag Manager to install Google Analytics on your website.
Google Tag Manager (GTM) is a free piece of software from Google that allows us to manage different snippets of code on your website without going through website development each time.
Implementing various elements of Google Analytics tracking may rely on adding not just one piece of code but many different snippets across different pages of your website.
To avoid repeated development process and to keep all code snippets in one place, we use Google Tag Manager.
Implementing Google Analytics this way has many benefits:
it makes updating your website in the future easier, quicker and less risky,
it doesn't slow down your website,
it makes managing tags on your website easier by non-developers,
we can install other services from other providers on your website in the same way
it provides more control over managing tags and collecting data on your website.
If you already have Google Analytics installed using the Google Analytics snippet, we'll make the necessary changes to update this.
To install GTM on your website we will need to to add a single piece of code to your website.
What is included in GA configuration?
We follow best practice when configuring your Google Analytics account. Here are some of the things we do:
We implement a consistent naming convention for your Account, Property and Views;
We set up 3 views for your data: Raw Data, Test and Master;
We add a filter to remove your own internal traffic from your data;
We add a filer to remove bot and spam traffic from your data;
We add a filter to make sure all data traffic is related to your website;
We add filters to ensure data consistency in your reports (e.g. all URLs in lowercase with a single trailing slash);
We configure the settings of your Accounts, Properties and Views.
There will be a mixture of standard tasks we will do and ones that are custom to your site. We will review your website before we start work to identify any extra elements but feel free to point out any specific set up you think we need to do.
How do you create my dashboard?

We use Data Studio to build your dashboard. All you need is your Google account to log in and see your data.
Data Studio reports allow complete flexibility in terms of design and data sources. We can, e.g. add images and text descriptions, and change terminology to remove jargon. We can even combine Google Analytics data with other sources of data you may have – like your order processing system.
How do you determine my website goals?
Before we start the project, we send you a questionnaire to fill out or we have a call or a meeting with you. This depends on the complexity of the project, your specific requirements, and where you're based. We need your valuable input to decide on the correct goals for your website.
How will my dashboard help my business?
Your dashboard will show you how your website is performing in terms of traffic, user engagement and your KPIs. You will also be able to see where your audience are based, what devices they use, how they found you, etc.
Using your reports will give you an idea about what is and is not working on your website. From that, you will have an opportunity to make an informed decision on what changes you may want to make to your website or to your marketing strategy.
If you need help analysing your data further – or with improving on some of your KPIs, we can help you make your website more profitable. Just let us know!
Do I need to be based in Manchester or in the UK to work with you?
No! We can work with clients across the globe and communicate via email, Slack, Skype or other methods you prefer.